Hunger and Severe poverty in Islamic Republic of Pakistan
VIDEO
Pakistan Food Crisis -

People Hungary No Food/No Water/No Electricity/No Securuty.
Why No-one incl US/UK, china, Arab countries helping pakistan ?
Can pakistan ask help from India ?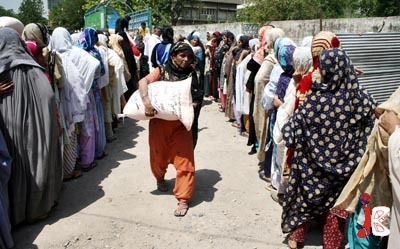 Keep Breeding in pakistan no matter if pakistan has no food/water/electricity/sugar/AATA etc- to feed the population
pakistan need more&more childrens to concure the fuckn world to spread angry islam--no matter if pakistani live like rats/insects- so please continue non-stop sex with your women's---never give them rest-one kid by another(your wifes are not human they are child manufacturing machines)--keep continuing

--like rabits
Never listen what good things Dr Pervej Hoodbhoy/

Hassan nisar

or

Marvi Sirmed

told you

keep calling them

Bay-ghiarat RAW/Mossad/CIA agent--if you will keep growing populationwise like this then no-one(incl ur allah) can STOP pakistan from self destruction- AMEN!!!!
Dear- Readers--please be quiet - in above picture(on green leave) a good & peacefull pakistani muslim busy in producing more kids so he can spread islam in whole world --because after all pakistani muslims dreaming to concure the fkn world right
:) -
rightnow population of fkn -small/tiny pakistan is above 19 Crore - - -pakis's need more additional 19 crore(totoal 38 crore) to defeat the world
Poor pakistani's childrens/women/old folks dying from shortage of food/& Pak-Army-ISI supported terrorism, but on other hand pakistani politicians enjoying luxry life from the money they get from US/UK etc
Pakistan Army/ISI is biggest threat for Pakistan's unity - Army eat most budget/money of pakistan's revenue
This money should go to pakistani people's welfare but Army take it away by showing fake threat from India/US.
Shame on pak army-shame

Because of pak army - pakistan divided in 2 parts-in 1971--similar things now pakistan army doing with

balochistan

--again pakistan will be divided in several parts--we are 100% sure it will happen again like in 1971-only thing we are not sure when this will happen?---u can guess(hope very soon--Amen!!!!)
---

Coward Pak army with 90 thousand soldiers surrendering to India--you guys still want give your money(75%) budget to these selfish cowards - you have nothing to eat-drink & army generals have millions in swiss bank-big home-farms-10-10 naukar-gaadi bangala--what you have ?
Earlier they surrandered to India-now they surrandering to Amreeka - wake up folks--don't you wish to live civilized life like rest of world living--stop giving money to army--better spend it on education/medicine/clean water etc
listen more to Marvi Sirmed-Dr pervej hoodbhoy-Hassan nisar etc-these folks are the hope for pakistan.
never get lured by Zaid hamid-Orya maqbool & hameed Gul type rightwing extremists-they will take u nowhere except hell.
Stop Hating USA & India - these democratic countries only wish better-terrorist free pakistan